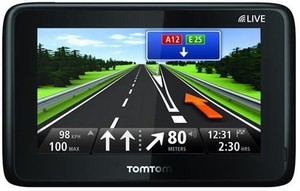 TomTom back with two new sat navs, affordable Go Basic and Go Camper for caravan and camping enthusiasts By Rik Henderson 2 May TomTom has announced two new sat navs for those without devices built into their cars already, or those who don't want to make do with their phones.
The TomTom Go Basic is an entry-level sat nav in name and price but comes packed with features. The new TomTom GO sat nav boasts a six inch touchscreen and comes with WiFi, making it easy to keep the device up to date with Read more Gamification of driving: TomTom Curfer will deliver driving stats to improve your performance By Chris Hall 1 September There's a connection on your car that's talked about on car forums and in service centres, but not a lot else.
Read more TomTom Vio is a satnav for scooters, to help you get where the funk you're going By Chris Hall 1 September TomTom is launching a new satnav that's designed specifically for those commuting on scooters or motorbikes. MyDrive Traffic Checker is a new feature that has been added to the app for free. Read more New TomTom Start satnavs go beyond phones, offer average speed camera help By Luke Edwards 3 May Splashing out on a satnav these days needs to have justification, thanks to plenty of free mobile alternatives.
That's why the new TomTom Start range of satnavs are offering more than ever before. The TomTom Start 42, 52 and 62 all come with free lifetime The self-driving car movement is obviously here to stay.
More and more high-profile companies, such as Google and maybe even Apple, are taking it seriously, and now that group of supporters The TomTom Trucker is a 5-inch portable navigation system that is more compact than the existing Trucker Read more TomTom MyDrive bridges the gap between smartphones and cars By Chris Hall 29 April TomTom MyDrive is a new system that's designed to connect together all your devices - laptop, smartphone, tablet - as well as your car.
The aim is to make it easier to plan and set your destination, allowing you to do this before you step into the car, The new app replaces TomTom's previous satnav app and completely changes the fee structure, giving you free navigation, speed cameras and traffic for 50 miles a month, every month. Read more TomTom unveils dedicated Speed Cameras app to help drivers keep speed under control, free for 3 months By Luke Edwards 10 December TomTom has a new app aimed at helping drivers keep their speed under control by alerting them to speed cameras.
The TomTom Speed Cameras app is purely for alerts so that drivers can avoid getting speeding tickets if they've accidentally slipped over the Read more TomTom Start redesign to take on smartphone satnavs by being more affordable By Rik Henderson 1 August TomTom is combating the rise in the use of smartphones and free or paid-for satnav apps by making a newly redesigned Start line-up more accessible to drivers. Adding features such as lifetime maps and smarter routing.
The new TomTom Start line-up includes The new TomTom satnav devices offer lifetime traffic, one of the highlights of TomTom's devices. To get access to the traffic you'll need to connect the new devices Read more TomTom adds traffic jam slow down notices to satnavs By Rik Henderson 4 September TomTom has added a Jam Ahead Warning feature to its TomTom Traffic service, which is free for TomTom Go owners and available on subscription to users of some of the other satnavs in the company's line-up.
The new feature pinpoints the location of a traffic The new TomTom Go comes in three sizes: Read more TomTom co-founder: By Mike Lowe 18 April That question keeps rearing its head again and again: Corrine Vigreux, TomTom co-founder and managing director of consumer certainly seems to think so. Read more TomTom Commuter satnav concept: For the 'untapped' everyday user By Mike Lowe 18 April TomTom has lifted the lid on a concept that it sees as the future satnav solution for the everyday commuter.
Currently called the "Commuter concept" the device will be targeted at the - you guessed it - commuter who, despite already knowing their route Read more TomTom powering in-dash navigation for Fiat, debuts on Fiat L By Chris Hall 5 March TomTom has announced that it will be powering the next in-dash navigation solution for Fiat, with the quirky Fiat L being the first car to get the new navigation solution.