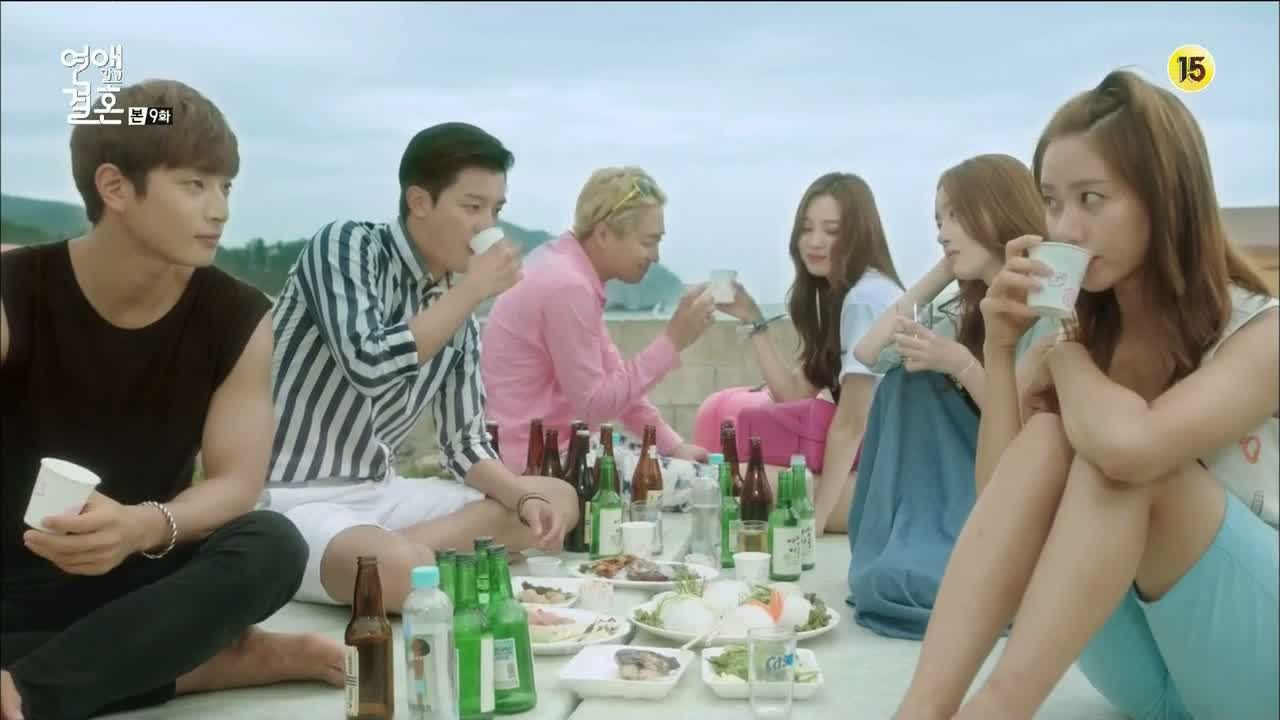 Perhaps when you get so good at fake love, you stop being able to recognize the real deal. Adobe Flash Player version 9 or above is required to play this audio clip. Download the latest version here. You also need to have JavaScript enabled in your browser.
They each take turns downing a shot and look back and forth expectantly. When the day is over, all six of us will have kissed someone. Through that kiss, some will confirm their love, and some will be hurt. Rewind to Jang-mi the runaway bride, as she escapes the bridal shopping day from hell and leaves Ki-tae standing in the street calling her name.
Ki-tae keeps calling Jang-mi frantically, and Se-ah comments meekly that she really did want to help this time. Ki-tae jumps in the car to go after her, and Hoon-dong hops in too, using his stolen car as an excuse to come along.
Yeo-reum drives Jang-mi to the ocean with the top down, like a picture-perfect honeymoon getaway right out of movie. Yeo-reum chides her for getting wrapped up with real emotions in the fake marriage all over again, and Jang-mi agrees with a smile. Ki-tae calls out on cue: But of course she trips and falls in her giant dress, ha, and all three boys race to her side.
Yeo-reum runs to Ki-tae for a rescue, insisting that Hoon-dong should be told the truth. But Ki-tae just enjoys the petty retribution and says he deserves it, leaving Hoon-dong to chase him around the yard. This time he scans her up and down and calls it a perfect look for her, and she scowls.
She seems appeased at that, but then Se-ah interrupts to tell her that her mom found out about his past relationship with Se-ah, putting their engagement back on the rocks. Urg, he IS sorry! Ki-tae points out that she has no car and no money, so Jang-mi reluctantly lets herself get dragged to the beach with Se-ah. Ki-tae trails after them with a look of warning at Yeo-reum, and Hoon-dong follows it up with a hilarious three-part mime act: Jang-mi sits out on the beach grumpily, still in her flower pants.
She tells Ki-tae to stop being cheap and just give Se-ah the present she wants, and he just clears his throat uncomfortably.
Jang-mi kicks up her half-exposed leg from her ajumma pants being hiked up, no less and demands that Yeo-reum put oil on her too. Yeo-reum suggests they go elsewhere for some private time, and Ki-tae gets all pouty-faced, shouting after them and going ignored. Thankfully Hoon-dong shows up to be a mood-killer and forces everyone to play together where he can keep an eye on them. So Yeo-reum picks Jang-mi up and tosses her in the ocean, and even Hoon-dong joins in on the fun.
Ki-tae watches jealously, wishing he could play but warring with his desire to look above it all. Eventually Yeo-reum tosses Se-ah in too, and they have fun splashing around.
Back in the city, Hyun-hee comes out of the drugstore with a long face uh-oh and calls Jang-mi needing to talk. It sounds like she really needs a friend today, so Jang-mi asks if she wants to come to where she is.
Mom says that Jang-mi ran off with someone else, perhaps the person she wants to be with more than Ki-tae. But Aunt bursts her bubble with the latest picture sent from Ki-tae just moments ago, of Jang-mi and Ki-tae looking happy and snuggly on the beach. Jang-mi recoils when she sees the group drinking, determined not to go home without having some fun.
But they just sit her down and insist that fun will be had. Se-ah suggests a dangerous game of Truth or Drink , and when the spinny bottle lands on Ki-tae, Yeo-reum asks how far he went with Se-ah when they were dating. When it lands on Yeo-reum next, Ki-tae asks how many women have cried over him. She looks at Jang-mi with hurt eyes, having come all the way here because she thinks of her as a friend, and Jang-mi swears she meant to tell her.
He takes her away for some alone time, and Ki-tae watches them go with a long face. Out by the lighthouse, Yeo-reum suggests that they spend the rest of the trip on their own.
Se-ah grabs Ki-tae for a kiss, and Jang-mi averts her eyes, wondering to herself why she feels this way. Ki-tae tells her she needs stitches, and balks when Yeo-reum piggybacks her.
They go to a nearby clinic, where a woman recognizes Ki-tae and Se-ah as the doctors who came here a few years back to perform facial reconstruction surgeries for children who were born with deformities. Ki-tae and Yeo-reum skip past the metaphorical dick-waving and just go to the bathroom together. Why waste words when a trip to the urinal will do? When the boys return, Se-ah asks Ki-tae to get his car, which he runs to get when he realizes the alternative is Yeo-reum piggybacking Jang-mi all the way back again.
Back at the guesthouse, Hyun-hee helps a drunk Hoon-dong back to the room and tries to have a conversation with him. You picked now of all times? Oppa, what am I to you? When Ki-tae returns with the car, Se-ah is there alone. Jang-mi and Yeo-reum look around her expensive hotel suite, and Jang-mi freezes when Ki-tae calls. Jang-mi and Yeo-reum are out on a boat, and she wonders if they did the right thing.
How can you even ask that? Ki-tae asks why Se-ah is going to such lengths and argues that if she wants a baby, it could be with anyone—why him? As Yeo-reum kisses Jang-mi, he reaches around her waist to draw her closer, but she actually jumps back at his touch. He lets her off the hook and they agree to go back. She sighs as her calls go unanswered, and gingerly takes out the pregnancy test in her bag. She gets two buttons down before Ki-tae finally puts his hand over hers to stop her.
It took you long enough. Jang-mi and Yeo-reum arrive back at the guesthouse but Hyun-hee is nowhere to be found. Jang-mi discovers the pregnancy test that Hyun-hee threw away in the bathroom, and realizes this is what she needed to talk about.
Ki-tae arrives outside and he and Yeo-reum exchange barbs about their lack of stamina, when Jang-mi runs out still holding the pregnancy test and worrying about Hyun-hee.
Yeo-reum and Jang-mi go running out to see if they can find her. A quick search of the last calls includes a nearby temple, and he smirks to realize she left the breadcrumbs there to be found.
He pulls up to Jang-mi and Yeo-reum like a know-it-all and says he used his brain while they were running around aimlessly, and he knows where Hyun-hee is. Getting there in the windy mountain roads turns out to be quite a challenge for the brainiac though, and he gets them lost and stuck in the mud.
Jang-mi and Yeo-reum get out to try pushing the car and only get splattered in mud in the process, and Ki-tae ends up calling a tow truck. He looks over at Yeo-reum jealously as he tends to Jang-mi and brushes the mud off of her, and then sends Yeo-reum back to the guesthouse to fetch Hoon-dong. Ki-tae tries repeatedly to sit next to Jang-mi, but every time he sidles up to her, she scootches away again.
He listens to her intently, eyes fixed on her the whole time. This is all because of you! Her eyes start to close, as she kisses him back.
And in the distance, Yeo-reum returns to find them lip-locked. Jang-mi narrates in voiceover: If we go back, will it be like nothing happened?
Can we go back?