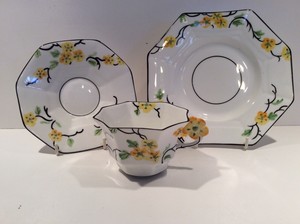 Price 10 Lot of 6 silver-plated items including a tray, 2 teapots with lids, sugar, creamer, and waste bowl from Rogers.
The largest bowl measures Around the base are Christmas scenes and there is a nativity scene inside the globe.
It is in working condition. It measures about 7" in diameter x 10"H. It is in excellent condition with a small glaze flake. It measures 18"L x It is in need of cleaning but there are no chips, cracks, or other damage noted. It is amethyst colored with an iridescent sheen on it. We believe this to be Fenton. It is in excellent condition. It measures 5" in diameter x 4"H. The vase is yellow with a molded wheat design. It has some crazing and is in excellent condition.
It has a small chip on the tail.. They have screw-in bases. There are a few small dings on the wax guards near the top, but they are otherwise in excellent condition. There are also two cruets marked oil and vinegar. The pieces are blue and white with a windmill and sailboat scene on each of them. There is an impressed "Amstel" mark on the bottom and an ink mark that reads "Germany One lid is cracked and the rice canister has a few chips as does the oil cruet. The canisters measure 8"H and the cruets are They are a boy and girl wearing 19th Century Germanic style clothing carrying baskets.
They are marked on the bottoms. The girl has a repair to her neck, but they are otherwise in fine condition. It is on a fin on a base with wedges on each side for stability. It measures 10"H x 12"W. The largest basket has a handle and measures There is a hanging basket that has been painted yellow, black, and red on the underside and measures There is also a smaller basket measuring They are white with a ring of violets.
The pieces are in good condition with no damage noted. It is a man in a colonial era tricorner hat. Copyright date is It is green with white and pink flowers. There are handles on the ends. It is marked Roseville USA " on the bottom. It measures about It is marked Roseville USA on the bottom.
There are two underglaze ink marks. It does have some crazing and one small glaze flake near the rim. It is otherwise in excellent condition. It features a grey glaze with a white and green floral band and two curved hands. There is a bit of crazing, but it is otherwise in excellent condition.
It ha sa wood case with a detachable door. The instructions are included inside the door. Made in Thomaston CT. It measures about 8. No maker's marks are noted.
They have been used as planters with no structural damage noted. The larger piece measures about 8"L and the other is 6. It has a row of frosted coins around the lid and a ring of them around the main body of the piece.
On the underside, there is an ink mark with crossed swords over the letter "R. The lid is hollowed out so that a sponge can be placed inside to keep the tobacco moist. It measures about 6. There are 8 glasses in a blue and white overlay with Grecian scenes and gold trim on the top. There is a gold coned metal carrier. Each of the glasses measures about 5"H. The carrier measures 12" x 5. The glasses are in excellent condition with some minor wear to the carrier. It has an off-white glaze on the outside and a brown glaze on the inside of the crock.
There are no chips or cracks noted. It is cast to look like a lily pad with two butterflies sitting on either edge. The top has a rounded rectangular look. The feet on it are also molded with one a twig and the other a lily pad. There are 5 bells with a larger center bell attached to a metal bar with a handle at the top.
None of the stock certificates have been filled out. The front gutter of the binding has come open so that the spine of the book is detached from the inside, but the binding itself is still solid and the pieces inside are still together. The book measures 15" x 8. They depict different wonders of the ancient world. One is the statue of the Jupiter Olympus and the other is the Colossus of Rhodes. Both pieces are in excellent condition. It is raised on 3 feet.
It does have its original sticker label and believed to date to the 40's or 50's. It has a white glaze with a gold overlay and a red, blue, and marigold colored floral pattern. It is marked Arthur Wood England. It also has the original sticker label still attached. There are two menus inside; one for a gala dinner on Wednesday May 2, and a regular dinner on Sunday May 6, It has some signatures and a note on the front that apparently this was the ship on which the original owner returned from Germany in It comes with a small activities book from a German resort Berchtesgaden Chiemsee also dated It is primarily yellow with some green on it.
There is a raised mark on the bottom that reads "Roseville USA ". It measures 5"W x 3"H. They are all cranberry opalescence hobnail pieces. There is a small lidded bowl and two perfume bottles with clear hobnail stoppers. The bowl measures 4" in diameter x 2"H. The perfume bottles are 4. They are in excellent condition. It includes a lidded jar, a cigarette holder, and an ashtray. The ashtray measures 1. The lidded jar measures 5. The cigarette holder and lidded jar are in excellent condition.
It has a molded junglescape floral design in a orange-brown color with green highlights. It has a nice mat glaze. There is one small glaze flake on the tip of the spout, but it is otherwise in excellent condition. It does have a Weller Pottery ink stamp on the bottom. It measures 8"H x 8" from spout to handle. It is a metal globe depicting the moon. It sits on a plastic base.