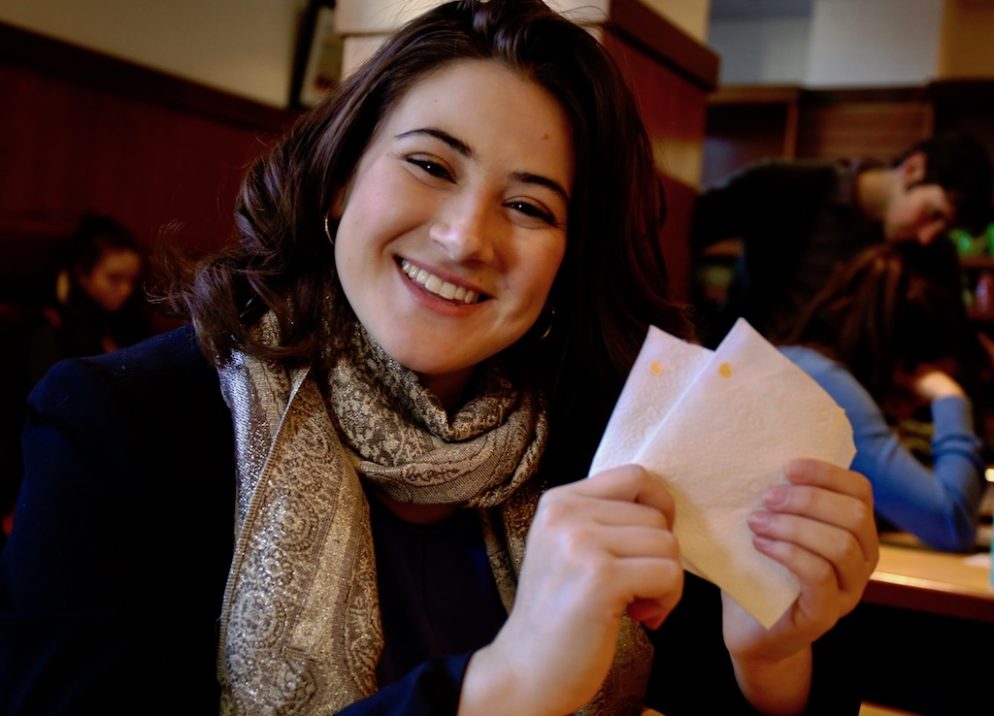 Model UN is also huge. I started a student organization my freshman year called Babies Behind Bars to raise support and money for an organization rescuing children of incarcerated women from prisons in Nepal. It was easy to set up and has made a huge impact on campus, and we are incorporating as a c 3 organization. Students leave their doors open but it's always a risk. UPD is good at patrolling the floors and there aren't a lot of robbery cases that I know of. Athletic events are not popular, but guest speakers, especially ambassadors and politicians, are very popular.
Theater is big within certain groups. The dating scene is non-existent coming from someone who is not participating in that scene, my view might be limited , but there's a lot of talk about hook-ups at parties, etc. As for relationships, they are not visible on campus whatsoever. Lots of people have relationships at other schools. I met my closest friends through the Honors Program because there are lots of events oriented towards building community within this group.
If I am awake at 2 AM, I am probably trying to get internet in the hallway and working on something for school. There are so many events every year that it's impossible to recount. There are lots of student org events that take over U Yard and Kogan and have lots of energy.
People party a fair amount as freshmen at least but you only see the ones who party, and there are many more who stay in but are just less visible in the halls. Greek life is huge, but not imperative. I didn't join and didn't feel the need to, but it gets annoying to have such a strong presence of the Greek community on campus without being able or wanting to be part of it. Last weekend I did a ton of school work and went running to the Vern campus.
There was a monthly Pancakes with the Provost event that I went to after jogging through Georgetown. It's a great place to spend time on the weekend DC. Saturday nights are great for wandering around the monuments, going to Cone-Island or Crepeaway open so late for food adventures , going to a nice restaurant in Georgetown, or watching a movie. I always go off campus to the museums, monuments, shops, farmers markets, coffee places, food trucks, clubs or restaurants, or I go into Virginia or Maryland to get away from the city.
Junior College Democrats are probably the biggest group on campus. I'm the president of a fraternity so greek life is important to me, but greek life in general is kind of watered down compared to a state school because greeks aren't the social planners for campus recreation.
Therefore, the biggest fraternities on campus aren't those who are fun or popular, but those who are GW poster children, they follow most rules and are generally pretty bornig. The fun ones are the smaller ones and are either going on or coming off social probations. The wild ones are unrecognized and are a liability for the university eventhough they're not official.
The Panhellenic Association is a mystery to me and I'm deep into greek life. I have no idea how they operate. It sucks because we talk about how diverse our school is and all this garbage, but we don't act on it. We care about men's basketball and thats it. Our women went to the elite 8 and I didn't even know until we lost. We have lots of guest speakers, but that's because we're in DC and people care about issues. I don't date at GW, too much drama.
Its easier to have a drunken hookup and then try to build a relationship than to actually be interested in someone and gradually get to know them.
That is a "GWorld" thing to happen My closest friends are in my fraternity. We pledged together and though we have different interests, and are from different areas of the country, the pledging process worked and we'll be friends for life. I will be up with them on a Tuesday at 2am smoking hookah, drinking beers, pulling an all nighter.
People party when they can, it will be random and sporadic. I've seen hung over people on a Wednesday morning If you don't want to drink at GW, there are plenty of concerts or theatre performances in the city. You have to check the Washington Post on Fridays, the Weekend section has a ton of information on things to do.
Because this is GWorld, people won't do that, they'll just drink with their friends. When I'm not on campus, I'm with my family, I have my parents, aunts, uncles, cousins that all live in the area. I actually know my way out of GWorld and appreciate "real" people every now and again. Senior Student groups at GWU are intense. They call them student orgs, and people have e-boards executive boards and board meetings and budgets and put a lot of their school pride and time into these orgs.
And they really get things done I was in one that started two urban gardens on campus! College Democrats and College Republicans are huge, and sponsor speakers and debates that are always well attended. Greek life definitely makes itself known, but you do not have to be involved with it to find a social group!
Going out to clubs is a popular activity DC has some nice ones! Again, it's what you make of it. DC seems to have free festivals every single weekend I know, I've tried.
Dorms are incredibly nice, but apartment style for the most part, so unless you are in the freshman dorm of Thurston, don't expect to make your friends on your hall.
My good friends are through student organizations, classes, random meetings I mean, where did I meet these people I always hang out with? Not sure ,and church. The great thing about a city school is that your social life isn't only other students! GWU students create their own communities, the school doesn't do it for you. Some people complain about this, but I hated the forced camaraderie of my hall in my old school If you get involved, you will find friends!
Girls do complain about the dating scene. There are more girls then guys I mean, same is true for most colleges these days and a number of the guys are gay. I am a straight female and haven't had trouble finding dates, but it differs for everyone. But what I love about GWU is while girls will whine about their lack of romantic males, we all know that we would trade them for that great job on the Hill or that fellowship in South America any day. Dating is not the priority here.
Sophomore Greek life is pretty big at GW but not the way you're thinking about it. Unlike most schools where you either go Greek to have a social life or face eternal isolation, there are tons of kids who choose to go against the masses and stand on their own with others who are exactly the same way.
I chose to refrain from joining any sorority because I didn't want to be tied down to the demands. As a Freshman, I can understand the benefits of feeling loved and beloved, I just wanted to spread my own wings. Sports clubs are really big at this school as well. Since we don't have a football team, lots of students try to create orgs to make up for the devastation. We have polo club, soccer club, and basketball club just to name a few. The great thing about GW is that if you can't find a club, you can create it!
The school embraces creativity and honestly is interested in embracing students' ideas. Study abroad is something else that a lot of people are into. I hear Freshman talking about all the time, dreaming of the day when they can touch the Great Wall or dip their feet in the Thames yuck.
The study abroad office does their best to accommodate all of students' requests and has partnerships with various international universities. GW is a very worldly University and has made many friends with big name companies and organizations to ensure students get what they pay for. Dorm parties are not really the big thing to do come Friday night, majority of students venture out to the many clubs around the D. The National Mall is literally steps away from campus as well as the most historically rich museums in America.
As I like to say on my tours, if you're bored, it's cause you want to be. Freshman There is always something going on on the GW campus, and a group for each student. I'm involved in Greek life, but it does not govern my entire life. While some of my friends are in my sorority, most are either in different ones or not involved in Greek life at all.
I can choose how deeply involved I want to be without feeling pressured to change who I am to be a part of my sorority. Most dorms leave their doors open and are very close to their hallways. Thurston, the biggest freshman dorm, is notorious for being the "party dorm," but there is no pressure for anyone to do what they don't want to do.
There is always something going on that might involve drinking, but that doesn't mean that there isn't something going on that doesn't. Most people meet their first friends at CI Colonial Inauguration, our version of orientation during the summer or just prior to the start of school.
I met my closest friends there, but I also have friends I've made in class, on my floor and in my sorority. It is very easy to meet people if you make the effort to introduce yourself or join something that forces you to.
There is always an event on campus, whether it is a guest speaker, an athletic event or a show. Students have the opportunity to attend all of these, but there is often a lack of publicity so they do not know the event is taking place until too late. Its key to take initiative if you want to attend something. Junior The dating scene at GW is pitiful. All the girls at GW are 50 times prettier than the boys at GW, therefore the same group of attractive guys at GW has been with every girl, can get any girl he wants, and knows it.
The Greek system at GW is a perfect example of this.