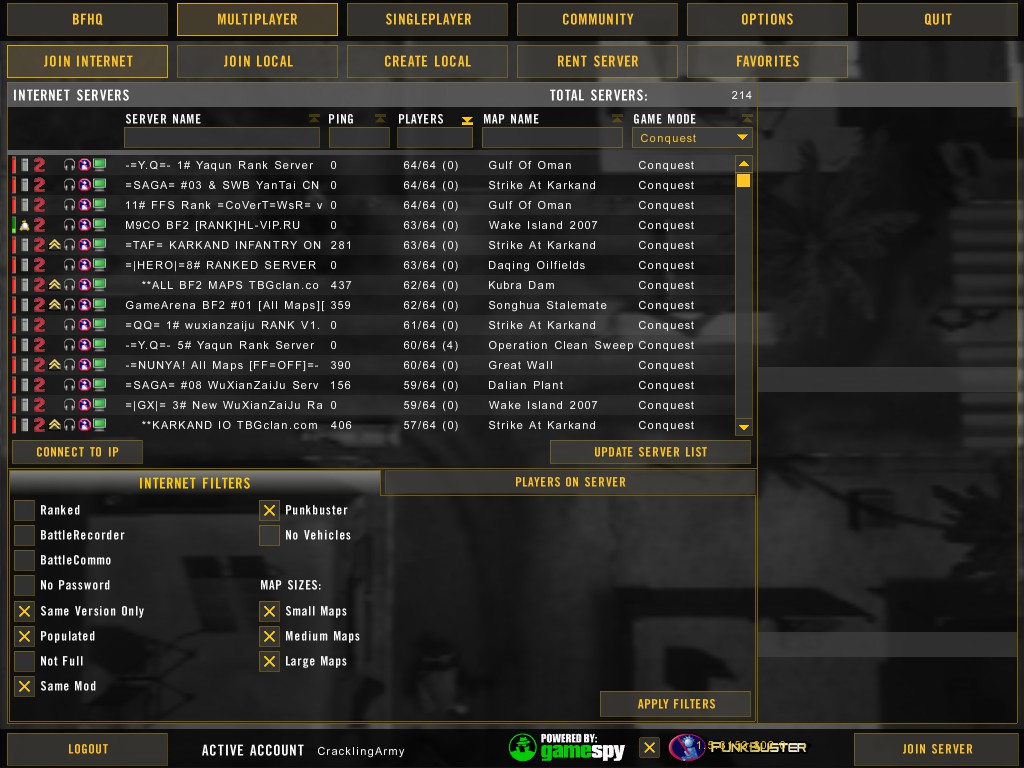 We marvelled at the concussive audio, discussed the odd animation and physics bugs that popped up — acknowledging that a game of this complexity must be a nightmare to bug-fix — lamented the control-seeking rigidity of Origin, and marvelled at the general technical achievements of the game itself. What really struck us about our little session, however, was the inadequacy of showing off a thing like this on a chaotic, public server.
To evaluate — as almost all reviews will — this game on the experience of jumping into a random server and playing for a few hours, really only grazes its depths. The point here is that gamers like myself and chum have tasted organised, competitive gaming many times over the years. From running a Quake III clan, through playing Battlefield , and operating Eve fleets — I know what this stuff entails, and how much more it makes of a game.
My friend is a little more hardcore, even, preferring Desert Combat and Arma. But the same feeling is true for both of us: Playing Battlefield 3, then, is actually making me feel a little sorry for myself. Yes, I will be able to jump in and shoot men in the face from time to time. I simply no longer have a lifestyle where regular practice and competitive play is possible.
The public server experience will, after all, be what most people who play the game will end up experiencing. Side-arms alone span a huge range of potential ordnance from pistols, through sub-machineguns, and into sniper-rifles and heavy machineguns.
All can be used to turn annoying, jittery alive people into nice, calm dead people. This can be vital for a sniper, or someone with a light machinegun.
At least until someone walks up behind you and stabs you in the head. What constrains your activities, however, is the unlock system. You do not have access to all the possible equipment for the four classes, but instead have to unlock it as you progress. Perhaps the novelty has worn off. Never mind though, because the four classes are, I feel, a better choice this time. The recon, that sneaky sniper bastard, remains much the same, but can now drop a spawn beacon for remote spawn-pointing, while the engineer remains ludicrously satisfying to play in a map with a lot of vehicles in it.
DICE know how to make first-person experiences convincing and compelling. I love the fierce recoil on the most primitive assault rifles, and the sparky, punchy kick of a pistol at close quarters makes a lot of sense. The most satisfying aspect of Battlefield 3, beyond the solidity of the Shooting Men In The Face, is the environment it creates to do that in.
This is a mixture of the brilliantly lit, rendered, and textured imaginary-but-real-world environments, the possible destruction that weaves through that world, and the soundscape which frames it in a giant, seething jungle of keenly-judged audio. No game has managed to portray the damage being wrought by 64 explosive-wielding soldiers this convincingly, and it will no doubt be a long time before we get the same density of shattering concrete, collapsing huts, or billowing burning bits of stuff swirling through the air.
Laying out on a ravaged mountainside and scanning the complicated mess of structures in an oil-refinery in the valley below is one of those raw videogame experiences that you will remember and think about long after you put down the game for the last time. The first is to compete with Call Of Duty Elite, essentially enabling players to indulge in stats browsing and achievement surfing, as well as delivering some social tools to smooth over the process of hooking up with chums for either a casual blast or more co-ordinated competitive play.
The second reason is control. Battlelog being a website run by EA means that EA have control. Or at least that was the idea.
The issue with that, of course, is that it takes control out of the hands of players. If their web server goes down then there is no game for you. That said, it does seem like a good game browser.
I also understand that control rebinding has not really been finished, and stuff like getting helicopters working with a joystick is still basically impossible. A minor issue, but frustrating for a few. And in the attempt to do that I keep coming back to a single idea: Try playing on hardcore maps, and you are suddenly playing a different game. One where, I would speculate, you will start to get a game closer to those organised, competitive clan experiences I was lamenting my absence from at the start of this piece, because you are just going to die so easily.
Balancing and bug squishing will no-doubt continue. And when complete, it will be something exquisite in the history of games. The lack of modding support is a travesty and seriously hurts the PC gaming community. But you knew that already. That would be a shame. Ultimately, I think most of you will get something out of being under fire, behind a wall, with your comrades yelling through the dust and the smoke, as snipers try to give you covering fire, with a grenade landing nearby, with an APC exploding like a collapsing star just yards away… All other considerations be damned.