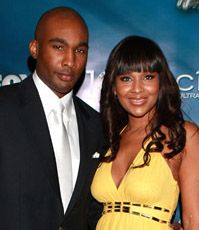 Now that your divorce is final. How have you been? Honestly, I feel great. I'm back down to my TV-size and ready to do what I've been missing for the last three years. When we last spoke you expressed concerned about being able to walk away from your divorce with what you believe you contributed to the marriage as well as contributions you made to the country. In April, my divorce was granted to me, but I'm still fighting for a settlement.
He needs to focus on the political fight he has ahead of him and give me what I'm due. I don't want his money, only the money I contributed to the marriage. Have you spoken and remained friends with your ex-husband? We do talk and text. I have no respect for a man who handled his business the way he did. He didn't handle his situation the right way so he could continue his political fight.
Why did i have to fight to get a divorce? People always encouraged me and said, "you have to fight," "keep your head up," "be strong" and "we love and appreciate what you've done, which makes me feel even better. Would you ever get married again? I am a fan of partnership and love. I believe it's easier to fight this fight of life with a partner than alone.
Team work is always better. I know that I will find him, my partner for life, soon enough. Many believe that Rev. Al Sharpton might be one of your potential candidates because you two have been seen around town. Laughs I've known Rev. Al since my days as the co-host of "Source All Access" so despite what people might think our relationship is not new.
However, he and I have a political relationship. I've been working with Ernie Hudson, The White House's Secretary of Education, and Newt Gingrich on the educational five-city tour where Wyclef Jean and myself visit various schools around the country to talk to the children. We already did Philly and my next stop is New Orleans. But trust me, when I get ready to date somebody y'all going to know about it laughs.
I'm not going to hide it all! I'm going to be cuddling, canoodling and everything else for the world to see!